 SUNDAY SCHOOL
Register Now for the 2023-2024 School Year!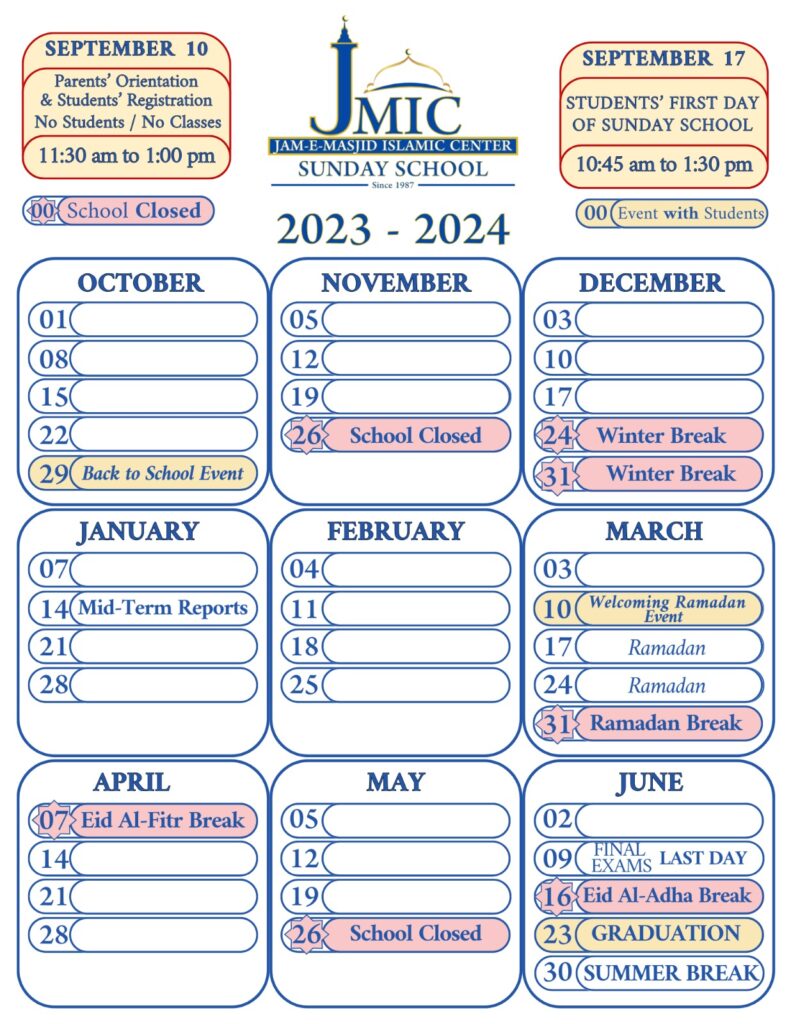 Children are our most important assets. The youth is our future and represents the future of Islam. The Islamic and intellectual growth needs proper nurturing through good educators and family system. We work in partnership with these children and their parents to strike a positive balance. Our experience over the years suggests that we can certainly make a positive difference in the lives of the children and the families.
We are all here to worship Allah (swt) by providing the Muslim children with a quality education based upon the Quran and the Sunnah of the Prophet Muhammad (saw).
Philosophy: Striving to please Allah (swt) through Taqwa
The foundation of the Islamic way of life is based on belief and righteous conduct. Faith begins with belief in one Allah (swt). As a result of this belief we strive to please Allah (swt). Islamic knowledge comes from the Quran and the example of The Prophet of Allah, Muhammed (saw). The application of this Islamic traditional knowledge encourages the development of a positive Islamic identity for our students.
The mission of American Islamic Academy Sunday Islamic School is to guide Muslim children towards the full realization of their spiritual, intellectual, physical, emotional and social potentials and prepare them to serve Islam and humanity for the pleasure of Allah (swt). Our school has a comprehensive program of meaningful, value-based learning experiences in an Islamic environment. We believe that our children can develop the first step by building a firm relationship with the Creator: Allah (swt), followed by the development of an Islamic personality capable of identifying, understanding and working cooperatively with others. This provides our children with a method of solving the problems that they will face as individuals, community members and as global citizens. This is the essence of Islamic education offered at the American Islamic Academy Sunday Islamic School. The curriculum is planned through expert guidance and experience of our trained staff. Special education or training in specific aspects of Islam are also offered to individuals for their personal development under the guidance of a trained educator counselor.